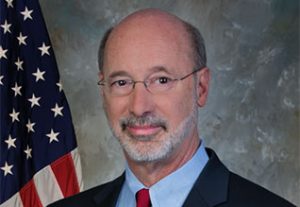 Governor Tom Wolf of Pennsylvania gracefully skirted a question regarding his prediction on internet gambling becoming a reality in the state, in a recent Question and Answer interview session. When asked by the Poker Players Alliance when the Keystone State will finally enjoy a legalized and regulated online poker industry, to his credit, the governor went beyond his initial "I don't know." He went on to say that that he believes that there is "real work" being done in the General Assembly as to how to enhance Pennsylvania's gaming industry, including online gambling and possibly online poker.
"The deal is that whatever we do on this enhanced gaming, it should not take business away from our casinos or the lottery," said Wolf, echoing repeated concerns from opponents that the introduction of online gambling would cannibalize the state's existing brick-and-mortar gambling industry."Otherwise why would we do it? Because we're already getting revenues from that. It should be something that could be implemented cleanly, and the oversight we could do without being really that intrusive."
The governor admitted that he is aware that a number of states have implemented legislation that regulates online poker, and have done so successfully. "We need to keep learning from what we can from those states," he said.
The PPA and others working hard to introduce a legalized and regulated online gambling industry in Pennsylvania, found comfort in the fact that, even though Governor Wolf did not openly condone online poker or give guarantees that it could become a reality, he didn't condemn it outright either. At best, Wolf mentioned that online gambling is part of the greater budget debate and thus it is not being dismissed outright.
What Wolf and lawmakers tend to agree on is that at least $250 million will be used from changes in Pennsylvania's gambling laws towards a deficit in the state budget. Where online gambling specifically fits into these changes is still up for debate. Analysts agree, however, that if online gambling is not added to the equation, Pennsylvania has little chance to make up the deficit from bricks-and-mortar casinos alone.
In the meantime, Pennsylvania is set for a joint gambling reform hearing about online gambling before the state House and Assembly. A hearing was due to take place before the House Gaming Oversight Committee recently, but was cancelled in favor of a joint hearing in order to save time and resources.