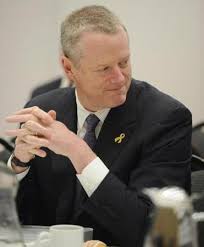 Massachusetts Governor Charlie Baker is seeking to generate over $35 million in taxes and gambling licensing fees in the coming fiscal year, by proposing the legalization of sports gambling. The governor filed his bill just before the deadline closed on Friday. At least four other gambling bills also made the cut off mark.
Baker's bill will allow fans to wager on sports games at land-based casino or on their smartphones. He hopes to bring Massachusetts in line with other states that have moved to allow legal sports betting in the months following the US Supreme Court's landmark decision.  States such as neighboring Rhode Island and an additional six have legalized sports gambling since the higher court's ruling.
Should Baker's bill pass, it will be the first state to allow online sports betting without the operators having to enter into a business relationship with existing state casinos. The logic is that new businesses can enter the market without the participation of Massachusetts's established gambling industry.
In a statement issued on Thursday, Baker said: "Expanding Massachusetts' developing gaming industry to include wagering on professional sports is an opportunity for Massachusetts to invest in local aid while remaining competitive with many other states pursuing similar regulations."
The bill will ban gambling on high school, college and amateur sporting events and players will need to be over the age of 21 to place sports wagers.  The Massachusetts Gaming Commission will be tasked with overseeing the new sports wagering industry, including the issuing of licenses. The authority will be allowed to separately license entities that are unaffiliated to land-casinos for the purpose of conducting online-only sports betting (such as to DraftKings, the Daily Fantasy Sports giant).
The governor reportedly took the lead of New Jersey and modeled his bill on the Garden State's sports gambling legislation.