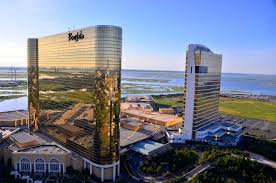 After Governor Phil Murphy signed off on legislation this week allowing casinos and racetracks in the Garden Stat to offer sports betting, punters can expect to find this option at several local gambling facilities as early as Thursday.
In a statement sent to the news media on Monday, Governor Murphy wrote that the state was "finally making the dream of legalized sports betting reality for New Jersey."
"I'm thrilled to sign Assembly Bill 4111 because it means that our casinos in Atlantic City and our racetracks throughout our state can attract new business and new fans, oosting their own long-term financial prospects," he wrote. "This is the right move for New Jersey and it will strengthen our economy."
The first racetrack to offer legal sports wagering will be Monmouth Park racetrack, with punters already looking forward to World Cup betting from 10.30 am.  The operators of Monmouth Park, Dennis Drazin of Darby Development LLC, invited the governor to place the first bet and "usher in a new era for New Jersey."
New Jersey becomes the second state, after Delaware, to offer legal sports betting since the dramatic Supreme Court ruling last month, when the Professional and Amateur Sports Protection Act of 1992 was struck down. Up until then, Nevada had been the only state permitted to offer full sports betting.
Under New Jersey's new legislation, its three racetracks, sites of former racetracks and the nine casinos in Atlantic City may offer sports betting. From the looks of things, the first casino to operate a sportsbook will be the MGM owned Borgata, which said that it was "moving ahead with all possible speed to begin accepting legal sports bets as soon as required regulatory approvals are in place."
Also celebrating the news was New Jersey Senate President Steve Sweeney who said that the state had led the fight for sports betting "and now it is happening."
Sweeney said that New Jersey will see sports betting "get up and running" and the state intends to remain a leader with a sports gaming industry that thrives.
"Our efforts will pay off," he promised.