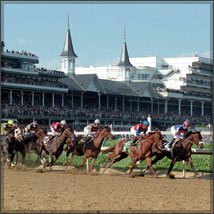 A circuit court in Kentucky rejected the assertions of a conservative religious group and ruled that gambling devices do not violate the state's prohibition on casino gambling. Judge Thomas Wingate ruled that the Family Foundation was not correct in their claim that the gambling devices used at four state facilities violated the state's definition of pari-mutuel wagering.
These devices take the results of previously run horse races in order to pay out winners. Over the years, they have contributed millions in revenue to the racetracks.  It is expected that betting through these machines will reach $1 billion in 2018.
In his ruling, Judge Wingate said that the arguments raised by the Family Foundation "are noble, moral and altruistic; however, the arguments fail as the devices are structured to operate in accordance with the pari-mutuel system of wagering."
The Family Foundation first challenged the existence of these devices when Exacta Systems installed them at Kentucky Downs. The challenge has lasted eight years and has involved Judge Wingate overseeing a lengthy process of discovery and hearing dozens of opinions on the matter. While the ruling essentially applies to the Exacta Systems games, it also covers other manufacturers who have since entered the Kentucky gambling market.
Gambling devices are now in place at the Red Mile in Lexington, Ellis Park and the Churchill Downs-owned Trackside training center in Louisville.
While Judge Wingate agreed that there was some question regarding the design of the gambling devices as they "look like Vegas slot machine" and they are "advertised as Vegas-style gambling", in the end he could not rule in Family Foundation's favor since "the design of the device is merely for entertainment purposes."
The bottom line is that the gambling devices do not violate Kentucky's gambling rules.
This is also good news for the off-track betting site, Derby City Gaming which is owned by Churchill Downs. Derby City has 900 machines provided by Ainsworth Game Technology and is planning to introduce more. A new facility is planned for Hopkinsville and the state's horse racing commission has been asked to give the green light to 1,500 instant racing machines at this new site.