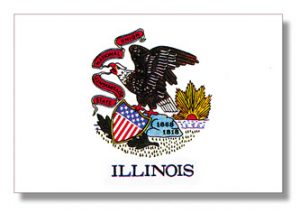 When Illinois Governor J.B Pritzker signed a gaming expansion bill into law last year, one of the requirements was that bettors first register in-person at licensed gambling facilities before they are allowed to bet on mobile applications. However, COVID-19 has created a new reality, making it an impossibility for Illinoisans to physically visit casinos, racetracks and sports facilities.
Instead of waiting around for the novel coronavirus to pass and delaying the launch of the state's fledgling sports wagering industry, the governor signed an executive order last week, allowing bettors to register for online sports betting accounts from their homes.
The directive is a temporary one that removes the need for bettors to register in-person in order to play on mobile applications managed by the brick-and-mortar gambling facilities.
In an announcement made by Marcus Fruchter of the Illinois Gaming Board on Friday:
"Governor Pritzker's executive order allows Illinois sports fans to temporarily place wagers from the safety of their own home, protecting a revenue source that is critical as the state begins to recover from the damaging financial impact of COVID-19. The Illinois Gaming Board looks forward to welcoming patrons back to casinos when it is safe to do so."
The problem, however, lies in the fact that while all this looks good on paper, there is no way for bettors to enjoy the benefits just yet. Out of Illinois' seven casinos and three racetracks that have applied for sports betting licenses, only two have been granted temporary permits.  The permits, however, are only good for placing bets inside the facilities…. which remain shuttered.
Gambling facilities have been shut since the middle of March, and are only expected to go back to semi-operations at the end of this month. In the meantime, the governor is not ready to commit to an opening date.
"Whatever we do with regard to casinos and with video gaming terminals has got to be done with the thought in mind that the states and the cities that keep their people safest — this is the history of pandemics — the states and the cities that keep their people safest are the ones that do the best economically coming out of it," said Pritzker.