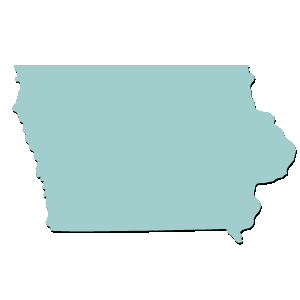 The Iowa Racing and Gaming Commission published a report on Friday with numbers relating to sports betting revenues in the state's first 17 days of activity. What stands out is that Iowans bet over $8.5 million over that time, with most of the money going on local college sports events. As a result, sportsbooks made nearly $2.2 million.
What helped these impressive numbers is the fact that mobile gambling went live almost simultaneously with casino sports betting. It is believed that in the very near future, mobile betting will overtake land sports betting due to very comfortable conditions.  Online betting operators, for example, only need to pay a 6.75% tax rate, and the industry also allows for multiple skins. Two companies – namely Elite and William Hill sportsbooks – currently operate online in Iowa. Together they made nearly $425,000 from online bettors.
It is expected that, as time goes on and online becomes stronger in Iowa, the balance will tilt to show that a larger proportion of players prefer internet betting. One only has to look at New Jersey as an example, to see that the Garden State's market was made up of 85:15 in favor of internet vs brick-and-mortar sportsbook.
A total of 13 retail sportsbooks opened for business since Iowa went live with its legal and regulated sports betting industry on August 15th, 2019.  Not all facilities began sports betting operations on the same day.
The properties are as follows:
Ameristar
Catfish Bend
Diamond Jo – Worth
Grand Falls
Harrah's
Horseshoe
Isle – Bettendorf
Isle – Waterloo
Lakeside
Prairie Meadows
Q Casino
Rhythm City
Riverside
The new industry has also proven to be excellent for casino business, regardless of the sports betting angle. Revenue from table games grew 10%, and slots wins grew 5%.
It is still early days for Iowa's fledgling sports betting industry, but for now, casinos are happy with the numbers.