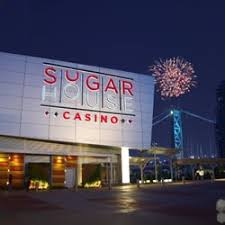 The SugarHouse Casino became the first casino to launch online sports betting in Philadelphia, after getting the green light from state regulators.
SugarHouse was allowed to take interactive sports bets from the afternoon hours on Tuesday until midnight with the blessing of the Pennsylvania Gaming Control Board.  The first few times are considered test periods, with longer ones planned for Wednesday and Thursday this week.
If all goes well, SugarHouse Casino will officially launch on Friday.
There was a slight damper on the celebrations when it was learned that the service will not yet be available for iPhone users.  Recently, Apple has been clamping down on apps that are considered "wrapped" versions of their operator's site.  SugarHouse is sure that the issue will be solved shortly and points out that the mobile version is still available for Android phone users, Mac users or on a desktop PC.
Online sports betting fans can find the SugarHouse Casino service on the PlaySugarHouse.com URL address. This is the same internet address used by players in New Jersey, and Pennsylvanians will be rerouted to the Pennsylvania address.
Despite being the same operator for both properties, Rush Street Gaming must see players register separately in Pennsylvania due to geolocation restrictions.
SugarHouse Casino executives celebrated the launch of Pennsylvania's first online sports betting platform.
"It's just an unbelievable day for us at SugarHouse and for sports bettors across the commonwealth," said Evan Davis, the general counsel for SugarHouse Casino in Pennsylvania. "We see in New Jersey the appetite for wagering on sports online."
"It's a big day for us," he reiterated.
The SugarHouse Casino's back-end systems have been through a number of tests already by the regulator. Authorities have tested their accounting systems, geolocation technology and safeguards against underage and other vulnerable players.
It is expected that other casinos will follow close on the SugarHouse Casino's heels and launch their own online sportsbooks.
"Others are getting close," said a spokesperson for the Gaming Control Board, Richard McGarvey, "but we don't have specific dates for them."