Top Earning Woman Players – Vanessa Rousso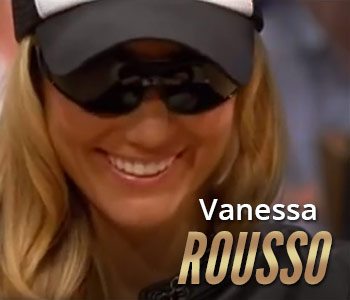 Brainy, blonde Vanessa Rousso is a familiar face on the live poker tournament and is considered one of the best female players in the world and also one of the sexiest female poker players. She has cashed in through a number of major events, both online and off, and her career as Lady Mavrick has certainly been a successful one since she first caught the industry's attention in 2005.
Early Years
Born in New York in 1983, Vanessa Rousso moved with her family to France when she was three and only returned to the United States when her parents divorced at the age of 10. She carries dual citizenship with the United States and France and she is fluent in French. Rousso's intelligence shone through from an early age and by the time she hit college, she was regularly making the Dean's list. She studied game theory, indulging in the Rubik's Cube and chess, but Rousso really began to feel like a fish in water when she discovered the theory of poker at Duke University. Incidentally, the game of poker itself had been an entertaining pastime for Rousso since she was five.
At this point, Rousso was keen to put the theory of the game to good use and wanted to enter poker tournaments, however she was still too young to play at casinos and so turned to online poker instead.
By 2003, after just two and half years at Duke (the shortest time to graduate in the history of the university), Rousso left the institution with a major in economics and a minor in political science under her belt. When asked once about the correlation between her determination to finish university in record time and her game player, Rousso said: "I think it comes down to having a competitive spirit. If you are a natural competitor, you gravitate towards games. I believe it is that very same spirit which drives intense determination in other areas."
In 2004, Rousso began a law degree at the University of Miami, reaching the top 5% of the class, although she did not complete law school.
Poker Career
Rousso began her live poker career playing at the Seminole Hard Rock Hotel and Casino while she was at law school. In 2005, she headed off to Atlantic City to turn a $250 win into $17,500, allowing her to enter the World Series of Poker for the first time that year, where Rousso placed 45th in the $1000 Ladies No Limit Texas Hold 'em event.
Rousso made history as the youngest female player at the time to reach a World Series of Poker circuit final table when she was placed fifth in the $1,500 No Limit Hold 'em WSOP Circuit event in Atlantic City. This was followed by success in a prelim event at the World Poker Tour Borgata Poker Open, where Rousso beat 173 players to take home first prize of $285,450.
Rousso proved her poker prowess online as well when she finished second in the Poker Stars World Championship of Online Poker Main Event. The player pocketed $700,000 for her efforts, making it one of the biggest online wins at the time.
Pressure was what Rousso seemed to strive on and when she met a field of 64 of the best poker players in the world at the NBC National Heads Up Poker Championship in 2009, Rousso shone through and was placed second, taking home $250,000 in well deserved cash. In the same year, Rousso made her biggest cash win – €720,000 in the €25,000 High Roller Event at the EPT Grand Final.
Career Highlights:
2006 – World Poker Tour $25K No Limit Championship; 7th place; $264K
2006 – World Series of Poker $5K Shorthanded No Limit Hold 'em; 8th place; $62K
2006 – World Poker Tour Borgata Open $5K No Limit Hold 'em; 1st place; $286K
2007 – Ultimate Poker Challenge Championship; 2nd place; $66K
2007 – Poker Stars World Championship of Online Poker No Limit Hold 'em Main Event; 2nd place; $701K
2008 – Poker After Dark "Gus and the Girls"; 1st place; $120K
2008 – European Poker Tour Monte Carlo €2K No Limit Hold 'em; 4th place; $54K
2008 – Poker Stars World Championship of Online Poker $1050 FLHE; 3rd place; $59K
2009 – World Poker Tour Southern Poker Championship; 7th place; $79K
2009 – NBC National Heads Up Poker Championship; 2nd place; $250K
2009 – European Poker Tour Grand Final €25K High Roller; 1st place; $947K
2010 – PCA $1000 Ladies Event; 1st place; $25K
Playing Style
One thing that stands out about Vanessa Rousso is her versatility around the table, whether it be her style of play or her game preferences. She once said of her own playing style: "I try not to emulate any one person's style. Instead, I chose to be a chameleon. I'll switch it up. If I want to play aggressive, maybe I'll start playing like the Grinder [Mike Mizrachi]. Sometimes I want to play like Dan Harrington, sometimes Phil Ivey. I have different modes for different situations."
Off the Table
Vanessa Rousso is another player who has managed to take her celebrity status and turn herself into a brand name. She has endorsed clothing lines, accessories and swimsuits, and has appeared in Sports Illustrated in a bikini. Other endorsements include for poker sites such as Poker Stars, as well as for the internet domain, Go Daddy.
Rousso keeps herself busy by focusing on physical fitness, writing game theory and teaching others the secrets of being a powerful and successful female poker player.
Conclusion
At an extremely young age, Vanessa Rousso has proven to be an antithesis for the 'dumb blonde' jokes by beating some of the top names at the poker table time and time again. This professional has won millions in prize money, both online and off, and continues to serve as a role model for millions of female poker players around the world.
Author: Joseph Falchetti (twitter)
(C) Copyright PokerWebsites.com, 2018