Kathy Liebert, Female Player Pioneer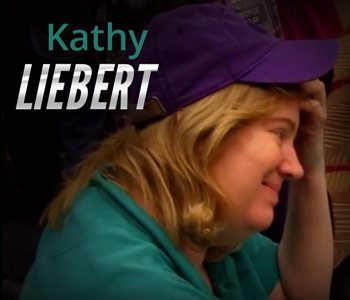 Tennessee born Kathy Liebert is considered one of the top female poker players in the world, with total winnings passing the $5.5 million mark in her professional career as a tournament player. Her consistency and cool demeanor have marked her as a unique kind of player that the poker world expects to find at the tables for many more years down the line.
Entering the Poker World
Liebert has put her degree in business and finance earned at Marist College, NY to good use, going forward into the game of poker with a cool and calculating game plan that manages to throw her opponents time and time again. While she has been playing poker as a leisure activity since the age of 12, Liebert entered the world of poker with the same kind of decisiveness and forethought that characterizes her playing style, with extra encouragement from her mother who urged her to do something she loved and the money would follow.
She first built herself a bankroll through playing the stock market before leaving the corporate world behind to start playing poker in card rooms. Her first introduction to poker came through $5 limit poker in casino rooms in the Rockies, and she has managed to forge her way ahead to dizzying heights as a professional player.
Career Highlights
After playing for a while in casinos, Liebert was persuaded by a friend to enter her first poker tournament in Vegas. If she had any doubts about her poker skills, these were put to rest when she came in second place. A week later, her confidence growing, she took part in another tournament, again finishing in second place. These two wins earned Liebert a cool $34,000 and she took this as a sign that she was destined for great things.
Liebert put all her efforts into playing poker tournaments, making herself a living and travelling on the circuit. While her cashes were enough to support herself, she dreamed of bigger things, and her first break came in 1997 when she came in second in the World Series of Poker $3,000 No Limit Hold 'em buy in event, earning herself her first six figure check of $124,00.
In 2002:
Liebert entered the Party Poker Million tournament and was pitted against some of the top names in the poker world, including Chris Ferguson, Phil Hellmuth and Mel Judah. Incredibly, Liebert made it to the final table and didn't blink while player after player was eliminated until she was facing the unknown Berj Kacherian in the heads up stage of the game. After a nail biting two hour session, Liebert showed just how skilled a player she was, becoming the first woman to win a $1 million top prize.
In 2004:
Liebert proved that she was not going anywhere, when she won her first World Series of Poker bracelet in a $1,500 Limit Hold 'em Shootout event, pocketing $110,180 for her efforts. That same year saw Liebert as one of only three other women to win an open World Series of Poker event.
In 2005:
Kathy Liebert took third place at the No Limit Hold 'em event at the Borgata Poker Open, winning a very impressive $427,115, making her the highest finishing woman on the World Poker Tour, until that record was beaten by J.J. Liu in 2007.
In 2005, Liebert won the Poker Royale: Battle of the Sexes, a televised production that brought into mainstream consciousness and made her a hero among female poker fans.
By 2009:
Liebert's winnings had reached a few thousand dollars short of $5 million and she decided to travel to the World Series of Poker circuit event at Harrah's Tunica with the aim of crossing the $5 million mark. Luck wasn't with her and Liebert was forced to split the 18th place money, leaving her with $5,519 in winnings. Incredibly, this was enough to see her over the magic milestone by a mere $577!
Playing Philosophy
Born in 1967, Kathy Liebert is not one of the young starlets to make a sudden impact on the game of poker and then disappear after a year. Her constant presence on the scene shows her seriousness and professionalism and her philosophy is that poker combines mind skills, certain traits and memory. "It's not a game of strength; it's a game of intelligence," she once said in an interview. "And a lot of it has to do with patience and discipline, as well as memory, and so I would say that women have all of the skills and in some cases even more of the skills than men in terms of being successful poker players."
As one of the top female players in the world, Kathy Liebert has obviously brought much pride to the world of women's poker, attracting a large following of fans and inspiring many to follow their dreams and play poker professionally. Ironically, Liebert tries to shy away from the title as top female poker player.
"I kind of wish they didn't distinguish between men and women," she once said. "It seems like people don't expect women to be good. It's almost too much, the whole idea of focusing on the sex thing, but there obviously are not that many women who play, and there are not that many women who are successful, so I can understand why it stands out a little bit more."
Conclusion
While poker is obviously Kathy Liebert's life, she is also preparing for her future in the same way that she entered the game of poker – by investing much of her winnings in the stock market. With a blue belt in karate and a poker coach to celebs, Liebert shows that she still has time to take a break from the professional circuit to do other things that she loves. Kathy Liebert remains one of the top female poker players and it will take extreme talent by other players to knock her from this pedestal.
Author: Joseph Falchetti (twitter)
(C) Copyright PokerWebsites.com, 2018