Salaries of Live Poker Professionals
Many of us who have grown up with Internet poker sometimes forget that the game was once solely played in brick-and-mortar casinos. Opting to play live poker is something that many players have chosen to do, instead of playing the online game.
In recent years, due to the UIGEA enforcement and "Black Friday" seizures, many more players who previously played online are going back to live play. While the rules of the game don't change, there are some distinct differences between playing online and in your local card room or casino. Let's first discuss salaries and typical earnings of poker pros at land based casinos (not online).
Realistic Salaries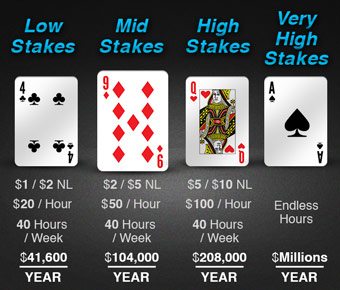 Playing live poker professionally can be quite lucrative, depending on the stake that you play. A player beating $1/$2 for 10BB(Big Blinds)/hr makes $20 an hour, but when you factor in gas or hotel nights in the casino if you are not "immediate local", this decreases.
However, if you file your taxes as a professional, you'll be able to write this stuff off. There are certainly players out there who play $1/$2 professionally and are happy to grind out $20 an hour, but its probably worth playing recreationally until you can beat bigger games.
If you can beat a $2/$5 NL game for 10BB/hr, that's a healthy $50 per hour. That's $2,000 in profit a week and $100,000 in winnings, even with taking two weeks off a year. Beat games bigger than that, and your profits become even larger.
Hands per Hour
This is the starkest difference between the two games. Those who play online, and especially players who are multi-tabling grinders, can easily get in hundreds of hands per hour. And even that can be on the low end. Sites that offer speed-poker games, such as PokerStars' Zoom Poker or Full Tilt's Rush Poker, may allow players to play over 1,000 hands per hour if they multi-table these variants.
The number of hands that players will see per hour in a live game is a mere fraction of the potential volume that can be played online, even by someone only playing a single table. A typical auto shuffler table will usually max out at 35 hands an hour, and that's with an excellent dealer. Most tables will average 25–30 hands per hour.
Rake
Speed is one of the drawbacks when it comes to playing live, but more harmful to players' bankrolls is the rake.
Online poker rooms charge players very little rake compared to the live game. On top of that, there are bonuses when you originally deposit, and some sites offer rakeback deals. Rake at most online rooms is just 5%, which comes with a maximum of $3. If you're playing short-handed or heads-up, the rake is often decreased to a miniscule amount.
Rake at casino poker rooms is usually 10%, up to $4 per pot, and while there may be a reduction for short-handed play, it still won't be anywhere near the break you might get online. At some casinos, the rake is 10% up to $5, and that might not even factor in dollars taken out for a poker. Casino poker rooms will offer players some rewards, but in almost all cases, they do little to make up the rake differential compared to online poker.
The cost of rake is something that few amateur players consider when playing at a brick-and-mortar casino. There's another cost they rarely consider as well.
Tipping
Tipping is nonexistent in the online game, of course, due to the lack of human dealers. However, it's a cost that players must consider when playing live. Tipping is a cost that takes money out of your hourly rate, and unless you're a terrible person, you're going to be tipping at least $1 per pot when you win a hand.
Skill Level
Here's one aspect that is firmly in favor of live poker. Unless you're playing at super high stakes, live games will almost always be fishier or softer than their online equivalents. In fact, the disparity in play is so stark that some players swear that their local $2/$5 No Limit game is fishier than the $0.25/$0.50 online version – I tend to agree with them!
Most people playing live poker are enjoying themselves and haven't put much work into their games. They're drinking and having a good time.
It's much different online, where a good portion of the player pool has put serious work into their games. They may be using a HUD (heads-up display) on tables and analyzing their play with a program like PokerTracker or Holdem Manager.
There are still plenty of fish online, but the ratio is much smaller compared to playing live. In some live games, as a skilled poker player, you might be the only person at the table who has a clue how to play.
Potential Earnings
Generally speaking, if you're beating a current level for 10BB/hr (big bets or big blinds), you're one of the best players in the game. Your win rate is easily in the top 20% of winners, perhaps higher.
The most common poker game in the country is $1/$2 No Limit Hold'em, so if you're beating this game for $20/hr, it may be time to move up in stakes. It's not to say that beating it for $10/hr means you're a poor player, but that the 10BB/hr rate is exceptional. There are surely players beating the game for more money (perhaps 15BB/hr), but they're the absolute pinnacle at that level.
However, it's important to realize that the higher the stakes, the tougher it is to win 10BB/hr. Bettors often move up in stakes before they master a certain level because the rise in stakes often expands their earnings.
For instance, if a player is beating a $1/$2 No Limit game for 10B/100, he's winning $20 an hour. However, a 5BB/100 win rate at $2/$5 NL is worth $25 an hour. Going one level higher, a 5BB/hr winner at $5/$10 NL makes about $50 an hour.
Of course, determining your actual win rate at a current stake isn't as simple as sitting down and playing a few sessions. You will need a much larger sample size.
Sample Size
Due to the nature of live poker and the sheer amount of hours you need to put in to equal the amount that can be played online, getting a genuinely accurate representation of your hourly win rate will be a lot tougher.
Players can eclipse 30–40k hands a month easily online, and those who multi-table can crush that number. Players can begin to draw meaningful conclusions from their online play after 200,000 or so hands.
What does this amount to in terms of live play? Well, if you played 40 hours a week for a month and averaged about 30 hands an hour, that would equal about 1,200 hands a week and about 4,800 hands a month. If you did this every week for an entire year in live play, you still wouldn't eclipse 80,000 hands in a year. And that's playing 40 hours every week, without a week off.
You need a full year or more of play to get an authentic feel for your win rate at a current level when it comes to live play. Of course, many players will move up limits before this point, which can be perfectly acceptable.
A year will give you a better idea of your actual hourly rate, but if you're beating the game handily, moving up is fine. Just realize that there is a lot of variance in poker, and that the long run is important to keep in mind and playing 30 hands an hour sometimes makes that difficult for some.
Bankroll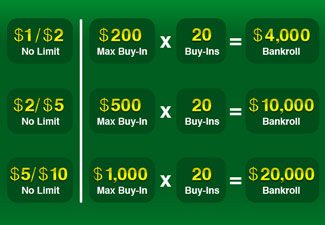 The consensus number for most live professionals when it comes to bankroll is 20 buy-ins. If you're playing $1/$2 NL, this means you would need $4,000 (20×200). For $5/$10 NL, the amount required would be $20,000.
Live bankroll requirements are smaller than if you were playing the same limits online. Due to the ability to multi-table and the speed of online games, the swings will be much larger in the short term online.
$1/$2 NL is generally the minimum stake offered for poker rooms across the country. $4,000 may be quite a bit for an initial investment for players, so taking a shot in this game with a lesser bankroll may be the only choice for some players who want to play live.
Before going professional, players should have AT LEAST a year of exceptional play and a healthy win rate, preferably at levels above $1/$2. Before you even consider going professional, you should be making more at poker than your regular job, even though you're playing the game on a part-time basis. Saving six months of living expenses is also something most professionals recommend before trying to make the leap.
Live Poker Is a Grind
Live poker has become more attractive in recent years due the crackdown on the online game in the United States, but it's still a tough undertaking. The games are certainly full of fish, but giving up the ability to multi-table and having to deal with life in a casino every day can be hard for some.
Most people say that poker is, "a hard way to make an easy living", I think that's accurate and that it goes twofold when playing live. You're going to be dealing with a lot of annoyances that aren't normally an issue when playing online. There are slow dealers and players, annoying personalities at the table, and a host of other aspects that may eventually get on your nerves.
Live poker certainly isn't for everyone. Many live professionals become miserable after a certain point and don't seem to be happy, even when they win. Others have been at it for 20 years or more and still enjoy it.
Author: Joseph Falchetti (twitter)
(C) Copyright PokerWebsites.com, 2018