Can You Deposit with PayPal?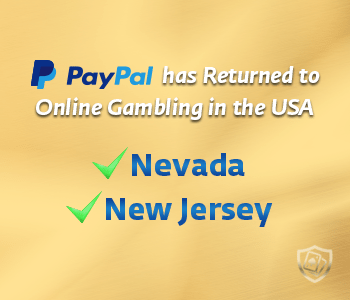 PayPal will never be offered again at offshore poker sites but it will be allowed at state licensed poker sites. The only current two states is Nevada and New Jersey where the WSOP poker site has Paypal for NV and NJ residents only. Credit cards are now the most common method of deposits and checks sent through Fedex being the most used form of withdraws.
Most Americans who have an online presence these days have a PayPal account. PayPal isn't just a player in American markets. They are the worldwide leader in processing Internet payments. They also act an e-wallet or an online bank account for users.
Online poker players often wonder why PayPal isn't an option on their favorite poker website. At one time PayPal did process gambling transactions in the US market, but that period was over a decade ago. The Federal law currently prohibits transactions to and from gambling sites unless licensed by the state.
Today, the legal climate surrounding online gambling in the United States makes using this payment processor unfeasible for the majority of the United States.
Paypal's History in US Online Gambling Markets
During the early years of online gambling at the turn of the century, PayPal was one of the world leaders in processing gambling transaction. However, after the legality of online gambling sites began to be questioned by US regulators, the company bowed out of processing payments for the then burgeoning industry.
The last gambling transactions PayPal processed were in 2003, several years before the Unlawful Internet Gambling Enforcement Act of 2006 was passed, which criminalized overseas gambling operators that did business with US customers, along with banks and payment processors who did the same.
The void left by PayPal was filled by Neteller and MoneyBookers (Skrill). Neteller used to process the vast majority of online gambling transactions at poker sites worldwide but were knocked out of the US market after they were indicted in 2007 by the US Department of Justice. (Source)
In Other Jurisdictions
PayPal had quite the hiatus from online gambling markets since they left the US-facing industry in 2003. While Neteller and Skrill operate in many grey markets across the world, PayPal restricts itself to jurisdictions where the legality of the activity is absolutely clear.
They only operate in states where the activity is expressly legal and only work with respected operators that have proper licensing. This has limited the areas where they do business. Countries like the United Kingdom and Ireland are where they do most of their business, due to their heavily liberalized stance on gambling and highly regulated environments.
Paypal's Future in Regulated US Poker?
Both Neteller and Skrill have entered New Jersey's legal online gambling market as payment processors. PayPal has also entered into New Jersey as well as Nevada via the WSOP only, currently. The company also presently works with Amaya Gaming and PokerStars and allows users to buy chips for their play money poker site, PokerStars.net. PayPal would also be familiar to American online gamblers as a brand they can trust.
They certainly wouldn't have any trouble finding customers. Creating a PayPal account takes just a few minutes. They have over 165 million customers worldwide and over 50 million in the United States. The largest payment processor and e-wallet in the world will almost certainly be back for American players in all regulated online gambling markets.
Author: Joseph Falchetti (twitter)
(C) Copyright PokerWebsites.com, 2018