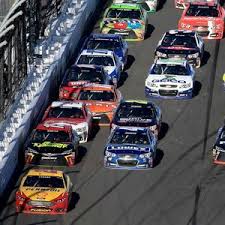 The National Association for Stock Car Auto Racing (NASCAR) has said that it is set to implement gambling rules from next year's season. This comes after a racing track in Delaware started offering legal, on-site betting on events.
Gamblers were invited to place wagers at the Dover International Speedway in Delaware during the NASCAR Tripleheader Weekend held recently. This is the first time that sports betting on NASCAR was offered at the tracks.  Punters lined up for many hours before the race began to place multiple types of bets, besides on the outright winner. Bettors could wager prop bets from everything from the number of drivers on the lead lap at the finish to total cautions.
With changes in US federal laws relating to sports betting in general, NASCAR is now feeling the need to get some rules in place. Most pressing is the fact that there are restrictions on drivers or team members from betting on races.
NASCAR President, Steve Phelps, said that the opening of the sports betting market to states where it was legal required an overhaul of rules.
"I think for 2019, we'll have some rules that we'll put in place," he said. "For right now, they'll be betting here. They have a kiosk here, you can bet inside. We'll study and see how it goes, but I think we'll have some rules in place for sponsorship, for what betting looks like, and continue to see what happens in the landscape overall."
Just three weeks after the Supreme Court overturned the 1992 Professional and Amateur Sports Protection Act in May this year, Delaware launched full scale sports betting.
When asked whether the 2019 rule book planned by NASCAR will include a ban on drivers and team members from wagering on NASCAR events, Phelps said: "I imagine we'll get there. The way the rule book looks today,  I think the teams and the drivers understand what it looks like today, and I think we'll clarify for '19 for more specific language in it."