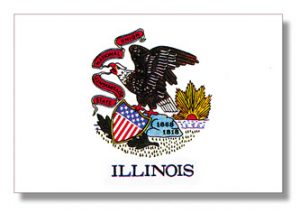 It seems that – for this year at least – the hopes of Illinois passing any type of online gambling bill are nil. On Thursday last week, the state's legislature wrapped up its outstanding issues for the year and there was no recorded action on the pending bill that relates to online gaming and daily fantasy sports.
There were hopes that Illinois' chances of getting an online gambling bill would come during six days of a veto session this fall. While the main purpose of the veto session is to override bills vetoed by the governor, it also gives pending legislature a chance to be considered. Unfortunately, there was no movement on the bills that Illinois gamblers were so keen to see passed.
The good news is that these same bills can remain in the legal pipelines into the coming year, without the need for legislators to start over. The House and the Senate will meet back in January and the active legislation could be heard again.
Nobody is pinning huge hopes to Illinois will get a regulated online gambling market next year, but stranger things have happened in US politics. H 479 is the bill that has advanced the furthest and if anyone wants to put money on the bill that has the most chance of becoming law, this may be the one. At present, H 479 sits in the House Rules Committee. The next step is to have it approved by the committee before it moves to a full vote on the House floor and then, finally, a signature by Governor Bruce Rauner.
The fact that Pennsylvania recently approved a major gambling expansion that incorporates online gaming will also have an effect on Illinois, no doubt. Pennsylvania made the move to help tackle its growing budget deficit, and it hopes to fill the widening gap with tax and licensing revenues that it expects to make from online gambling. Illinois could also use the extra revenue, and legalizing online gambling may be a viable solution.
Besides H 479, there are two other bills to look out for: S 209 which was referred to the House Executive Committee's Gaming Subcommittee, and S 1531 which was moved to the House floor on Tuesday and was one of the possible vehicles for igambling and Daily Fantasy Sports earlier this year.