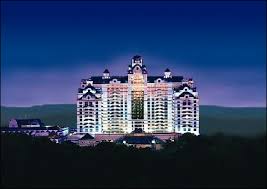 A recent press release shows that Foxwoods Resort Casino has inked a deal with PariPlay to offer real-money online gambling on its premises. According to the release, Foxwoods has adopted PariPlay's eyeON interactive gaming platform, allowing guests to enjoy digital gaming on-property. What is important to note, however, is that Foxwoods will go ahead with the deal "subject to any necessary legislation and approval."
The Director of Online Gaming at Foxwoods, Seth Young, said that the resort was thrilled to partner with PariPlay and leverage its world class interactive gaming platform "to lay the groundwork for our entry into the USA's iGaming market."
"The PariPlay on-premises solution is an exciting new amenity that will allow our guests to game anywhere that is legally permissible, and will allow us to prepare for broader opportunities outside of the four walls of the physical property," noted Young. "Developing an interactive gaming program is the next step in Foxwoods' commitment to providing an ever-expanding range of amenities to match the changing needs of our guests, and to continue to be first-to-market with unique experiences for visitors."
Young said that the partnership served as an excellent new business opportunity for his organization, and by proxy the state of Connecticut.
"iGaming has demonstrated its ability to both drive new revenues and augment the operations at brick-and-mortar facilities," he said. "This is a major step forward for Foxwoods, one of the USA's leading gaming and entertainment brands."
By preparing the groundwork for online gambling infrastructure on its premises, Foxwoods could also be the first in the state of Connecticut to offer legal online sports betting should the state allow it. There are several obstacles currently standing in Foxwoods' way. For starters, the US Supreme Court will need to vote in favor of New Jersey's attempts to repeal the federal sports betting laws governing the country. After that, Connecticut will no doubt be among the first states to repeal its prohibition on sports betting. If it does so, the Connecticut Department of Consumer Protections will begin drawing up regulations to shape the state's new sports betting laws.