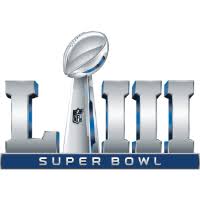 Releasing results of a comprehensive survey ahead of Sunday's Super Bowl, the American Gaming Association predicted that Americans will wager $6 billion on the country's biggest annual sports event. The report showed that one out of every 10 Americans – or 22.7 million adults – will bet on the outcome of the game between the New England Patriots and the Los Angeles Rams in Atlanta.
The survey, conducted for the AGA by Morning Consult, shows that 1.8 million people plan to wager illegally via a local bookie, while millions more will bet at offshore gambling sites.
The president and chief executive officer of the AGA, Bill Miller, said: "The interest in legal, regulated sports betting in the United States has never been higher."
The survey results come at a point in American history where states are rushing to create legal and regulated sports betting industries, following a landmark ruling by the US Supreme Court in May last year. The higher court struck down the 1992 federal law, PASPA, which previously banned sports betting in most states. At present, regulated sports betting is offered in eight different states, with many more hoping to pass similar legislation in the near future.
According to Miller, "it is more important than ever for jurisdictions to enact sound policies that provide a safe, legal alternative with protections for the nearly 23 million Americans who will place a bet on the big game."
Other key findings of the AGA survey show that 52% plan to wager on the Rams, while the other 48% will back the Patriots.
Earlier this month, the National Football Association designated Caesars Entertainment as its official gaming sponsor. In addition, five individual NFL teams formed partnerships with the gaming industry, following the Supreme Court ruling.
The Super Bowl triggers multiple bet options, including some of the most bizarre prop bets seen in the industry. As usual, there is a lot of interest in the singer of the national anthem (this year performed by Gladys Knight), including the length of the rendition, what the singer will wear and whether the singer will take a knee during her performance.
Other sites are offering wagers on how many times Tom Brady's supermodel wife, Gisele Bundchen, will be seen on TV.