Bigger = Better?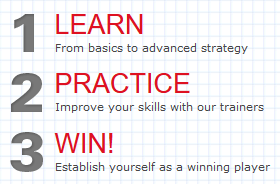 When the Daddy of all poker websites opens its own poker school it is time to wake up and pay attention to what it is that they are saying and doing. Since most of today's pros either grew up on Poker Stars or currently feature there so the quality of the lessons that they provide is bound to be high.
I have to confess to being excited to check out what they had on offer there. Naturally there are pros aplenty and well known names and faces such as Daniel Negreanu, Joe Hachem and Chris Moneymaker are offering insights as to their own unique ways of taking down big pots and playing with the odds on their side.
A Feel for the School
The site itself is both slick and easy to navigate and most importantly it is one hundred percent free! This makes it a cinch to be the first port of call for someone who is starting at poker from ground zero. The video feeds all work well providing high quality picture and crisp, clear sound and there are alot of them. Lessons from poker 101 how to play the game to bankroll management and learning the odds are all there.
Live Training
Most excitingly there is a new program called Live Poker Training which is due to debut soon and promises expert coaching from Poker Stars Pros as you play. This would give much to the site and allow it to really compete with the other poker sites. The Forum is also not quite there yet and is due to debut soon. The Poker Stars training site seems to be more of a work in progress at the moment than a standalone training site and this leads me into talking about the positives and negatives of learning poker on a website such as Poker Stars.
Price = Free
The fact that the site is free is the most important thing to be stressed here. Other poker training sites will require a hefty investment of around $100 sign up fee plus a monthly fee. Therein lies the problem. The content of other sites dedicated solely to poker training is of a higher quality than that on offer from Poker Stars, probably owing to the wide range of people that they have coming to them. There is no real focus and, as stated above, the site doesn't yet have the applications on offer that dedicated training sites provide.
If you are brand new to the game then there is no doubt that your first port of call should be to the slick Poker Stars website to learn the nuts and bolts of the game from videos made by the most famous faces in the game, once you are past that level though you should probably think about moving on to one of the more specialized sites.
Author: Joseph Falchetti (twitter)
(C) Copyright PokerWebsites.com, 2018