Quick Start for Beginners
At the Grinder School you will learn how to become an excellent small stakes player. The videos and advice from the pros will help you build up your game from nothing to profitability incredibly quickly. Having said that if you are already at the level where you are playing mid stakes or higher and having some success then this simply isn't the site for you. I personally am glad to have found a site that caters effectively to low stakes players.
Videos at Grinders School
At the Grinder School you will find thousands of videos dedicated to playing low stakes poker, for those dedicated enthusiasts who love the game as a hobby this could be the place for you. The videos operate smoothly and although the pros (mrpadawan, piratos013 to name two) are not the best known in the business they are carving out a solid reputation for themselves in the online game.
Negative: No Re-player
One of the first things that I noticed about the site was the lack of a poker re-player which does affect the site quality as the re-players are becoming more and more a standard feature of poker training sites rather than an added extra. With that in mind there are some positives to the site that go a long way to ensuring that this disadvantage can be shrugged off.
First off is the easy navigation of the site. There aren't any flash graphics and there aren't any other frills, which for me is actually a bonus since I come to a poker training site looking to learn not get blown away by fancy graphics which hide all the features of the site that I am trying to use. The videos are all clear and crisp using a standard player, I did feel that the pros narrating tended to sidetrack a little too much rather than stay focused on the topic which was a little disconcerting, though the advice they gave was still solid.
Prices and Affordability
The payment plans for the site are all very reasonable, befitting the size of the bankroll that Grinder School is seeking to attract. There is a Micro Stakes subscription plan and a full subscription plan. The micro subscription plan is ten dollars per month and the full subscription is twenty dollars per month. If you sign up for a year there is a discount pushing the price down to one hundred and twenty dollars. This is fantastic value for money from a poker training site with no registration fee.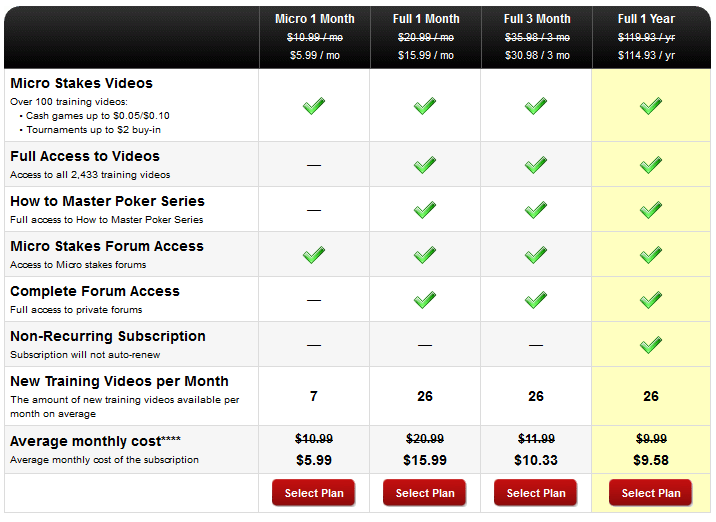 So if you are looking for a site specifically geared towards low stakes and which is great value for money this is your choice but remember that this is a stripped down poker site lacking some of the features of other, frankly, more upmarket sites.
Author: Joseph Falchetti (twitter)
(C) Copyright PokerWebsites.com, 2018