BlueFire Poker Training Site
Pro and Owner of BlueFire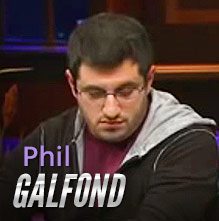 When Phil Galfond left Cardrunners to develop his own poker training site the apprehension within the poker world was very high indeed. Galfond was one of the most successful pros on Cardrunners, when Bluefire opened up towards the beginning of 2009 pros, rookies and reviewers such as myself flocked over to see what he had come up with.
Flourishing with a Playbook
Now, almost a year on, Bluefire is flourishing and deservedly so. The options on offer are all very good and when combined with Galfond's own exceptional playbook, they make for a really fun learning experience.
High Quality Material
By deciding on a quality over quantity approach Bluefire has ensured that all of their training videos are of the highest…well…quality and frankly with over one hundred and thirty five hours of them you can be sure that this quality site also has its own high amount of vids to keep you busy. By concentrating solely on cash game play Bluefire is taking the rookie to the heart of where the real money is.
Not Geared Toward Beginners
There is a word of warning here, the site is aimed at players who are already moderately successful, so if you are brand new to the game then you should probably shop at one of the many other brands around as this one can get a little technical. The quality of the vids is high, the sound comes across cleanly and the graphics look good. The hand re-player is a useful device and with the assistance of Galfond and Nguyen the advice really is second to none.
The blogs on the site come from pros whose mindset is not to analyze every individual hand that they play but to allow you to analyze the hands that you are playing. This is a really great philosophy for a poker training site to have and one too often overlooked by other sites where the insistence is on mind numbingly taking you through the performance of pros.
Stake by Stake
I found the articles on the site to be really useful and catered specifically to certain stakes players. I for example play micro stakes and have found that some of Don Nguyen's articles on how to play Micro Stakes are really useful. The price for signing up is a ninety nine dollar fee and then another twenty dollars a week, which is about industry standard. This is not an expensive price when considering the quality that is on offer here.
Also it should be remembered that Bluefire's pros are all the young up and coming poker players in the industry and as such have grown up with the online play that we all now take for granted. This gives Bluefire a huge advantage over the sites offered by players who grew up on the real tables and are less familiar with the virtual felt.
Author: Joseph Falchetti (twitter)
(C) Copyright PokerWebsites.com, 2018